We are a 'not for profit' Community Transport company providing flexible and affordable transport to groups and organisations in rural villages around Ashford in Kent, where transport options are restricted.

We are based in Pluckley and have been operating a small fleet of minibuses (two of which are adapted to carry disabled passengers), since April 2004.

For a modest annual membership fee local groups, clubs, schools, other organisations and families can hire our minibuses, either on a self-drive basis or with one of our volunteer drivers.

Owned and managed by the rural communities that we serve, we aim to bridge the transport gap in rural villages by providing affordable and suitable transport for community groups and families, whether social, leisure or health-inspired. Our members include organisations working with children, youth groups, disabled, elderly, housebound or otherwise socially disadvantaged people, as well as those who simply like to go out with like-minded friends to visit places of interest and wish to travel in one vehicle rather than having to take several cars.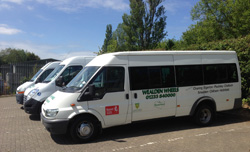 Wealden Wheels is supported financially by Kent County Council, and by the Parish Councils of Challock, Charing, Chilham, Egerton, Pluckley and Smarden. Our day-to-day running costs are largely met through our annual membership and vehicle hire fees.
During our early years we were also financially supported by 'Action for Communities in Rural Kent' and from the European Community via the Mid-Kent Leader+ programme.
We are extremely grateful to everyone who supports the running of our operation, particularly our current members and our team of volunteer drivers. Without such financial and other support, we would be unable to continue to offer our valued local transport services.
For further Information on joining Wealden Wheels, hiring our vehicles or volunteering with us please contact Liz, Chris or Mike on 01233 840000, email us at wealdenwheels@btconnect.com, or fill in our contact form.